"Hybrid is much more complicated. It requires intentional planning, intentional leadership, and intentionally building the right technologies, norms, and processes." - Tsedal Neeley
During a time when organizations are in the spotlight for mandating employees return to the office, creating a hybrid work policy that's practical, flexible – and above all – embraced by employees can feel daunting and even overwhelming. Since the onset of the pandemic, (74%) of offices now have some type of hybrid work model in place. However, research shows that 57% of employees feel stressed and disengaged at work.
Leaders must pay careful attention to creating a hybrid work strategy that not only accommodates employees from wherever they are but also engages them with their colleagues and the organizational culture.
What the Research Says About Hybrid Work
Adam Grant, author and organizational psychologist, hosts the WorkLife podcast where he interviews professionals from all walks of life to help us rethink how we all work, lead, and live. In a recent episode, "The Dos and Don'ts of Returning to the Office," Grant chats with Nick Bloom, a Stanford economist and leading researcher on remote and hybrid work, and Tsedal Neeley, an expert on work and technology at Harvard Business School (both of whom bring decades of research experience to the questions and answers surrounding the efficacies of hybrid work).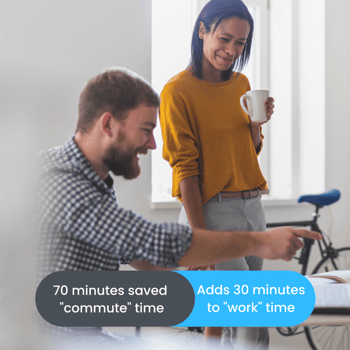 In 2010, long before talks of RTO and a pandemic, Bloom led a randomized trial experiment at a Chinese multinational company with over 30,000 employees in which employees were either assigned to work remotely or stay in the office entirely. After six months regardless of departments and teams, the remote employees were 13% more productive (taking fewer and shorter breaks) and half as likely to quit. Then, after the pandemic began, Bloom began surveying 5,000 Americans per month revealing that remote employees saved 70 minutes per day on average by not commuting to work, and they averaged about 30 extra minutes per day on their work.
How to Create a Realistic Hybrid Work Strategy
While Bloom's research has shown the efficacy of hybrid work, Neeley's work has focused on how to make hybrid work policies that are scalable and realistic using technology. Here's what she recommends:
Start with data. Neeley recommends anonymously (and frequently) surveying employees to find out what's most important to them to create a hybrid strategy.


Over-communicate. From there, leaders will want to overcommunicate policies and expectations through multiple channels.


Ensure executive endorsement. For a hybrid strategy to be successful, your leaders must be on the same page and supportive of the policy to avoid miscommunication, proximity bias, and employees feeling unsupported.


Create touchpoints. If an employee can save 70 minutes on average each day they work from home, their experience in the office needs to be collaborative, creative, and inspiring.
Evidence shows that hybrid work is good for satisfaction, retention, work-life balance, and performance. Grant's podcast and introduction to Bloom's and Neeley's research shows the efficiency of hybrid work and how technology can help make workplaces work better for everyone, regardless of where they are.
Creating a hybrid workplace strategy that transforms your office and engages your employees is easier than it sounds.
Let's chat to find out what works for you!