Making the transition from a regular office to a hybrid workplace doesn't have to be complicated.

With the surge in hybrid and remote work in the last couple of years, more and more companies are looking to offer flexible options for their employees to keep pace with competitors. Because many companies cannot provide a completely remote option, a hybrid workspace can often be better.


Why Hybrid Workspaces Work Better
Rather than trying to support employees from around the globe at all times, the hybrid option allows companies to rely on employees to come into the office regularly while still retaining some remote optionality.

From an employee's perspective, a hybrid workflow can help them achieve a better work/life balance without the rigid workweek hours. With the Coronavirus still making a significant impact, being able to control the number of people in the office is a bonus for a hybrid workspace.


What Specific Tools Can Help with a Hybrid Workspace?

It is not easy for organizations to adopt the hybrid workflow without transition. Luckily, there are many tools out there to assist!


Zoom
We'd be hard-pressed to find someone that hasn't used, or at least heard of, Zoom after it has taken the world by storm. The go-to application for video meetings, conferencing, and live chat for organizations worldwide continues to come out with updates to improve its usability. Multiple subscription plans are available for Zoom, including Free, Pro, Business, and Enterprise tiers.


Asana
Asana is a great task management tool that allows collaboration and communication across teams and projects. With different ways of organizing tasks and projects, Asana can be very versatile for all departments in a business. This tool is free for up to 15 people on a team and does offer a premium version starting at $10.99 and includes many upgraded features like custom fields, security features, and more.


inspace
inspace is a revolutionary workplace management app that allows those in an organization to reserve workstations, meeting rooms, lounge areas, and even parking spots for when they will be onsite. Find where your project-specific coworkers are working in the building to make collaboration more manageable, or use the app as a new employee to navigate large buildings!

Not only can inspace help your organization save on rent, but it's more cost-effective than competitors because of its easy, hardware-free design.


Ready to see what inspace can do for you?
inspace helps companies transform their offices
and save up to 50% on rent by switching to a hybrid style of work.
Headspace
Prioritizing your employees' mental health is a great way to prevent burnout, sick days, and turnover. As part of their compensation to employees, many organizations now provide access to Headspace, an app giving mindfulness programs like exercises and meditations.

Using this program can help employees sleep, focus, and de-stress. In a business world that's constantly changing and evolving, offering a program like this can assist employees in adopting new ways of working, like hybrid or remote work.


Dropbox
Dropbox is a cloud-based file storage service that allows for file organization and convenient team collaboration. When employees are bouncing in and out of the office, they must be able to access the files they need on the go. With a phone app and the ability to access through a desktop, syncing your files has never been easier.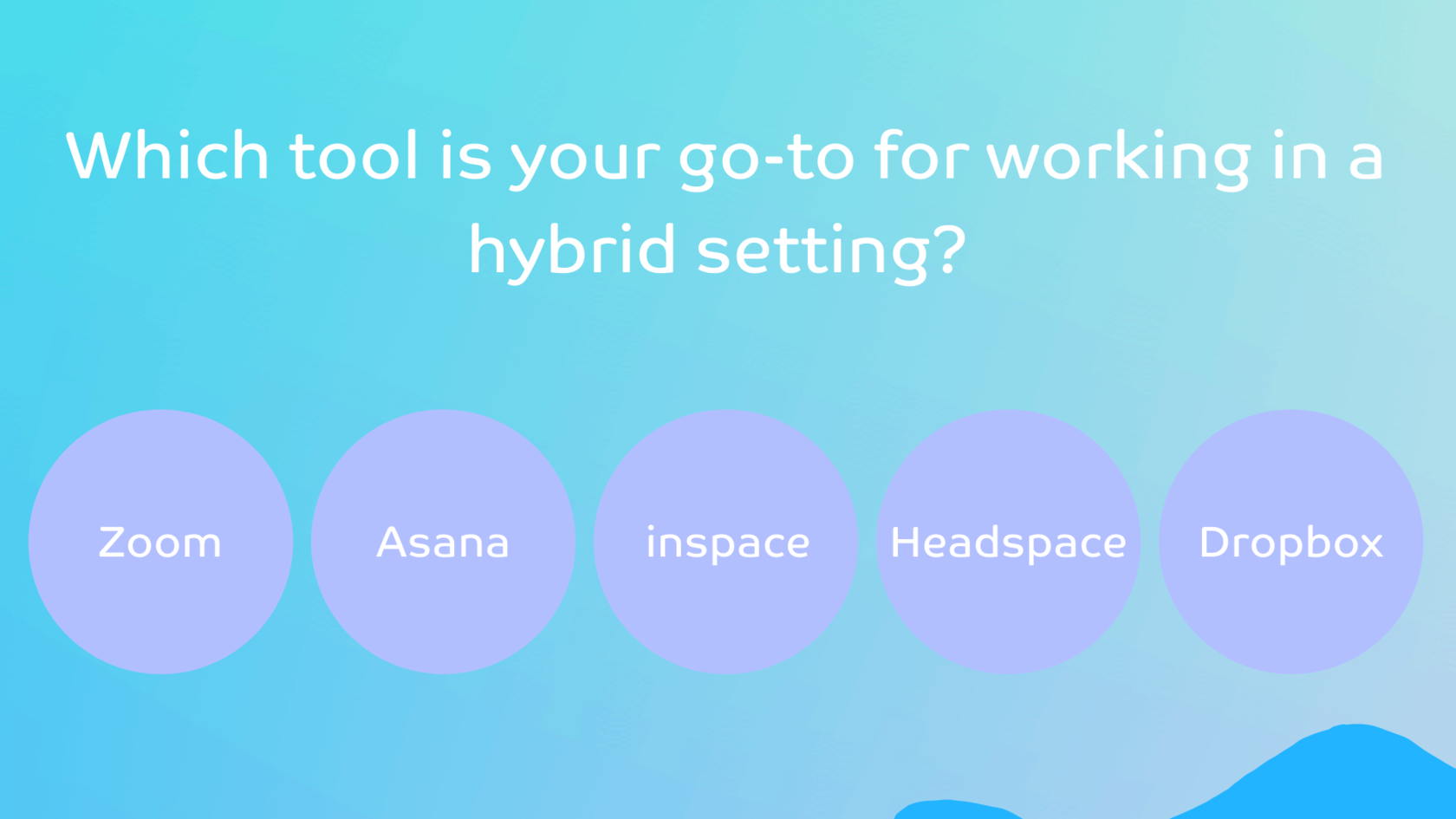 Using inspace with Other Tools to Transition to a Hybrid Workforce

While you will know which tools might best apply to your organization, these five are often a great starting point. Using inspace as the foundation for your hybrid workforce is one of the best ways to guarantee a smoother transition and more intentional collaboration.


Transform your office into a hybrid workspace.
Schedule a demo today.