A new study from Accenture found that 78% of employees believe their employer is responsible for helping them become "net better off," and 50% of C-suite execs agree. Before the pandemic, these numbers were 67% and 35%, respectively. But are the investments that employees are making into the company and that employers are making into workers leaving everyone net better off than before? Accenture created a framework with six main dimensions to think about this: Emotional & Mental, Relational, Physical, Financial, Purposeful, and Employable. When employers positively address these dimensions, the benefit to employees is evident. What might not be so obvious is how organizations can gain upwards of 5% revenue growth by making this investment.
Companies are struggling to understand and act on needed change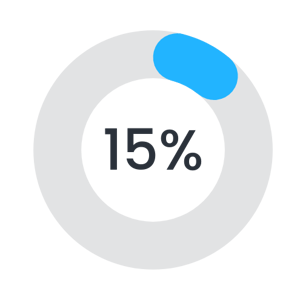 The reality is that 97% of workers effectively adapt to change, but only 15% of organizations say that they can enact the needed change.
The study lays out some insightful areas of action where companies can invest that impact both employees and organizations. The practices with the most tangible benefits are the ones that lend themselves to the use of modern, employee-centric office management technology that can help employers discover what change is needed.
For the first time, employers can use real-time data alongside anecdotal data to get an accurate picture of what is happening in their workplace and what changes will have the most significant impact.
The organizations that lead are the ones who understand the importance of connecting all of the data dots on the employee experience in such a way that helps them collect accurate, actionable data while improving function and experience for employees.
Reimagining work and the role of technology
It's not just about using technology to make a difference but choosing and implementing the right technology. Organizations should "use technology to enable flexible work", and the technology they select should allow them to reimagine work as a concept. By embracing flexibility and freedom, organizations can empower their employees to "engage in more fulfilling and innovative work", transforming the ecosystem of work overall and allowing employees to reach their full potential.
Flexibility is essential now. Companies have embraced hybrid work systems to prioritize their employees' physical and psychological health. The best hybrid systems allow employees and teams to choose when and where they work best. Taking a one-size-fits-all approach to everyone, even within the same organization, leads to chaos. Some employees may benefit from a hotdesking solution; for others, a 100% remote approach is best. For some companies, desks aren't the problem; shared spaces and room for collaboration are. The key is being flexible enough to change as circumstances do for both the employee and the company.
The optimal technology features an easy, wire-free setup, a seamless employee usability experience, and the capability to provide administrators with important usage information on how and when employees interact with their office space.
What matters most is working with a partner with the vision and capability to help you deliver the ideal changes that will impact employee experience, bottom-line results and leave the organization as a whole net better off.