We are in a war for talent.
With most employees feeling stressed at work and compounded by the fact that most workers under 40 would consider moving for a job opportunity, organizations should focus on fostering community in the workplace to retain and attract talent.
Less than three-quarters of employees prefer working in a hybrid environment. In fact, flexible schedules and remote options are the top ideal workplace qualities for 2022. But, with most companies already offering (or planning to offer) some type of flexible work option, promoting a hybrid office without a hybrid policy in place and no community to bring it all together isn't the organizational differentiator it once was.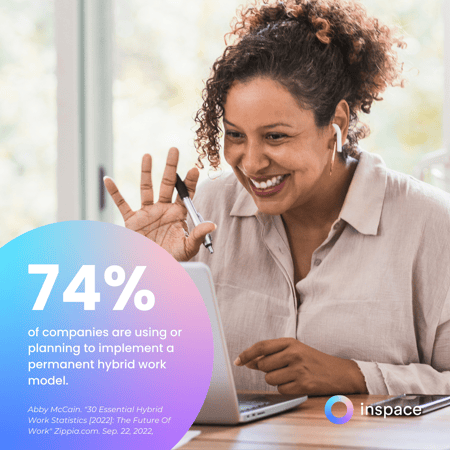 Now, beyond the fact that it's no longer a perk but an employee expectation, hybrid work has introduced new challenges, particularly around how companies can maintain culture and develop community. Tim Harnett, Senior Manager of Content & Research at Simpler Media Group, recently interviewed Elena Beloshapkova, CEO and Founder of inspace, on how organizations can build a workplace community in hybrid environments, what needs to change from the way things are, and why organizations should prioritize community building.
Here are the three things your office needs to make hybrid work:
Overcommunication from Leadership


Deliberate Collaboration in the Office


Building a Community that Positively Affects Retention

Simply put, thriving employees result in higher employee engagement, customer satisfaction, and productivity and lower burnout and turnover. And although creating a sense of community and connection can be difficult, it's not impossible with the right technology. Tsedal Neeley, an expert on work and technology at Harvard Business School, has focused her research on using technology to create hybrid work policies that are scalable and realistic.
Instead of thinking of the office as a place we go to spend a third of our lives to get work done, organizations should establish it as a tool for fostering community, collaboration, and camaraderie for employees. And, because employees can often work from anywhere, executives need to make sure that the physical office is a place where employees actually WANT to be.
That's our mission at inspace: to transform offices into purposeful spaces that focus on creating the best employee experience possible.
Note from the editor: The full text from this article, "How Fostering a More Purposeful Workplace Community Drives Collaboration and Retention," was originally published on October 5, 2022, by Reworked, a publication covering the transformation of the workplace.