Since our work lives were abruptly upended two years ago, employees expect flexible schedules and work environments. This doesn't mean employees are eager to stay full-time in their home office spaces because 72% of employees prefer a hybrid office model, mixing the benefits of home and in-office. Even though hybrid work is here to stay, it doesn't go without its challenges for employers to help address.

CBRE, a global commercial real estate company, released its Spring 2022 Occupier Sentiment Survey, revealing that most return-to-office strategies should focus on how companies can demonstrate the value of the office to their employees, which makes sense because employees want to make sure if they commute that the people they need to collaborate with are also there in person to make the best use of their time. We've put together a list for office space managers, executives, HR directors, and IT directors of the top three challenges of hybrid work (and the solutions to help put your office at the forefront of the future of work).
3 Challenges and Solutions to Hybrid Work
Challenge 1: Loneliness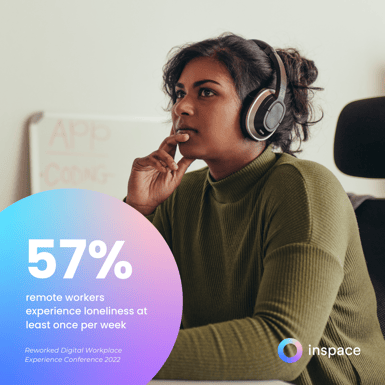 Although most employers and employees consider remote work a net positive experience (higher productivity plus no commute and working in sweatpants – it's a win-win scenario), the fact is nearly 57% of all workers experience loneliness at least once per week. For young workers, that feeling of isolation is exacerbated as they miss out on the mentorship and early-career friendships that help build soft professional skills like navigating uncomfortable conversations or accepting constructive feedback.
"The ability to forge personal connections with coworkers is one of the most compelling aspects of working in a physical office."
- Nate Nead, as published in Entrepreneur.
Solution: Connection
The solution for solving the challenge of loneliness of working from home is to help employees connect and learn from their peers. During the Reworked Digital Workplace Experience Conference (DWX), a panel of experts discussed the challenges and themes of employee development during disruptive times and how developmental opportunities can foster deeper connections between colleagues. "Employee development is more important than ever because it allows companies to engage with one another and build skills and knowledge to do their job better," said Ralph Gaillard, CEO and Chief Learning Architect at the Adele Learning Lab. To make hybrid work effective, employees still need to learn from each other to build camaraderie and friendships.
Challenge 2: Hesitation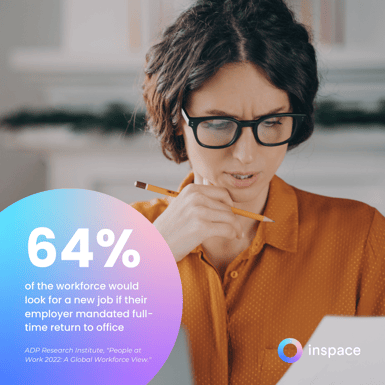 Employee habits have changed, whether due to health concerns or simply enjoying the freedom to walk the dog in the morning instead of spending an hour trapped in traffic. However, return-to-office mandates aren't the answer because most employees would rather quit their job than be forced to go back to the office full time. The ADP Research Institute's (ADPRI) report, "People at Work 2022: A Global Workforce View," revealed that as much as 64% of the workforce would look for a new job if their employer mandated a full-time return to the office.
Solution: Commute Worthy
To overcome the hesitancy and overall perception that the office is a place employees MUST spend at least eight hours of every day in front of their computers, employers will need to create work experience to help make the office a place employees actually WANT to be.

Instead of punishing employees (i.e., mandating) them to return to the office, focus on experiences unique to your company (in-person volunteer days or recreational basketball teams) and perks your employees can get excited about (gym memberships, commuter expense account, or maybe even onsite childcare).
Challenge 3: Empty Spaces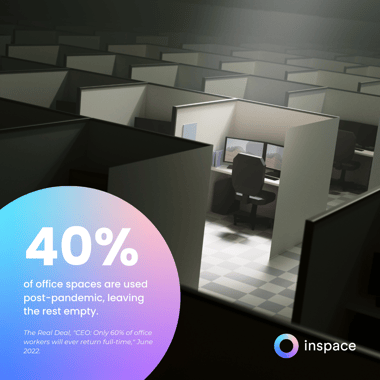 Employees' loneliness and disengagement aren't reserved for those who only work at home. As only 40% of office spaces are being used post-pandemic, many executives and office landlords are predicting that number won't go beyond 60%. As a result, employees risk feeling isolated and disconnected from colleagues, even in the office. And, if they're forced to return to a Ghost-Town environment, unable to collaborate with their peers, then they've wasted their precious time on a commute that could have been better spent working remotely.

Related Resource: Calculate How Much Unused Space Is Costing You
Solution: Employee Experiences
To combat empty, drab spaces, companies must invest in workspaces that complement how people work best and inspire creativity and collaboration. This doesn't mean you'll need to remodel your office completely. However, if your policies require employees to return to the office, you'll need to invest in making a space that reflects your values and supports your organizational culture. By using real-time reports and heatmaps to help visualize which spaces are actually used and which need to be repurposed, you can design a workplace environment that spurs innovation, creativity, and collaboration.

Related Resource: Workplace Analytics to Accurately Chart Office Utilization
Make Your Workspace Work Better
With roughly 46% of employers already using technology to help create equitable and flexible hybrid work experiences, future-focused companies will need to continue caring for employees and positioning employee engagement as the catalyst for innovation and productivity.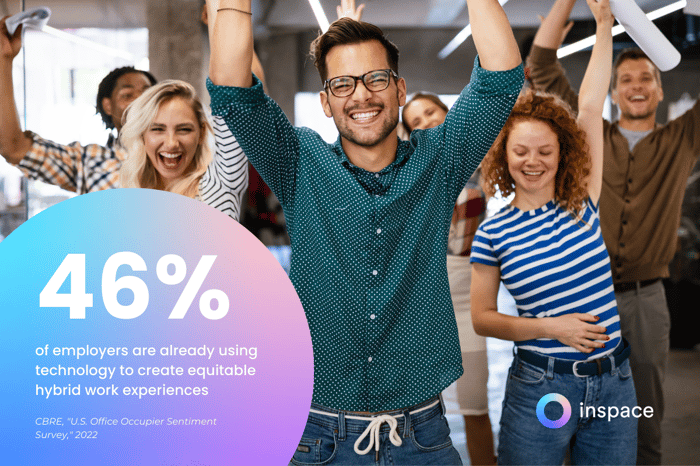 inspace offers an easy-to-use mobile app and return-to-office tools that help make purposeful presence at work a reality and the office a space worth returning to. And with real-time insights for creating data-backed return-to-office strategies, office space managers can help create a flexible, hybrid work environment that's as unique as the people who drive the company forward.
Download our "2022 Guide to Engaging Employees with Your Workplace."