During the 2022 HR Technology Conference & Exposition (HR Tech), the inspace team had one-on-one interviews with HR professionals about hybrid work, the employee experience, and how employees envision workplace freedom in their offices.
For many HR professionals, it was their first in-person event in years. They eagerly shuffled into the exhibit hall in droves to connect. To no surprise, our conversations revealed that everyone has a different working model and perspectives on "what works" for the workplace.
One woman, who worked at a fully remote organization, shared with us that she loved her company's culture. At the same time, another said that her remote-first company was "very siloed," and she "didn't know what anyone else was doing." Whereas others had adamant and different ideas entirely. "It's all hype," one man said ardently. People need to stop whining and get back to the office."
With all sorts of different factors, how can an organization create policies that work for the company and the individual?
Here are the top five trends and how they impact our workplaces from HR professionals:
---
The State of HR and HR Technology
1. Mindshift from Presence to Value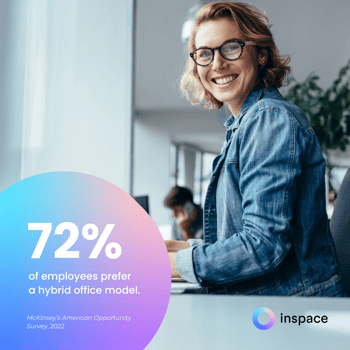 First and foremost, we're seeing a shift in how employees value work. In short, the role of work in our lives is changing, and we're all re-evaluating what value the workplace brings us. Similarly, we're witnessing companies re-evaluating what they get from employees and employees re-evaluating what they gain from their employers and what they expect from an organization.
Instead of the idea that an employer pays someone to show up and sit at their desk, organizations should focus on the value each role brings to the company. Yes, community and connection at an organization are essential and noble feats. Still, work is about individuals providing value to grow the team or organization. In contrast, the organization delivers value back to the individual in growth, education (and compensation).
One group has no issue coming back to the office to "show up."
While another group is OK being the lone wolves that stay in their lanes.
We've considered flexibility a workplace issue, but maybe it's what work should be and what brings more value to work the work we do.
2. Authenticity Matters
During the opening keynote for HR tech, Cynthia Marshall, CEO of the Dallas Mavericks and the first black female CEO in the NBA, shared how she transformed the Mavericks culture by focusing on values that allowed people to show up and share their voices.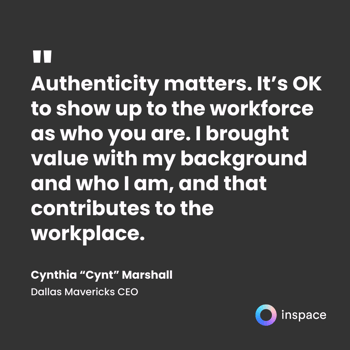 In the past, corporate life focused heavily on appearance. You showed up. You dressed a certain way and behaved a certain way – whether comfortable or not. It was about how well you fit the mold instead of the value you brought to an organization. It was often appearance vs. performance.
Not only is our view of work shifting but so is our view of who we are IN our work by authentically being ourselves and bringing our authentic selves to work. Authenticity is the anchor of one's self-worth— especially when under working conditions that threaten one's self-esteem.
Research further explains that authenticity doesn't just influence a person's motivation to work but their actual ability to perform and cope with work demands. A psychological study concludes that work-related authenticity is healthy for employee well-being and pivotal for performance.
"The results further point out that authentic behavior at work not only benefits employees in terms of increased well-being but also the organization as a whole as it leads to increased work ability. "
Related:
3. Flexibility Reciprocity
As we heard from one professional, sometimes a fully remote workplace can feel like a "heads down" environment with little collaboration or knowledge sharing.
So, if your company is remote-first, is it OK for employees just to get their work done?
Well, yes and no.
Yes, people are bringing value to your organization by doing what you pay them to do. But, on the other hand, your organization is missing out on retention, diversity, creativity, and connection that can help your organization evolve.
However, if anything, the last few years have taught us that flexibility is essential to the workforce, but flexibility is different for everybody. There truly is no one-size fits to it. It all ties back to the culture you're trying to create at your organization and how much in-person connection your people need.
The most valuable thing we've learned in this grand experiment of the last few years is this: there are many work styles, but we've been treating people like there's only one mold to be successful.
Imagine, if you will, the character Doc Brown from the 80s classic Back to the Future. The eccentric but brilliant scientist could travel through time. Still, he kept his desk littered with stacks upon stacks of papers and journals. Even his hair had a slight semblance of an electrical experiment gone haywire. His brilliance would be lost in corporate America because he wouldn't fit the mold.
The bottom line is that organizations will have to embrace the fact that people have different workstyles in which they can be their authentic selves and contribute the most value to the organization.
4. Players Moving in the Right Direction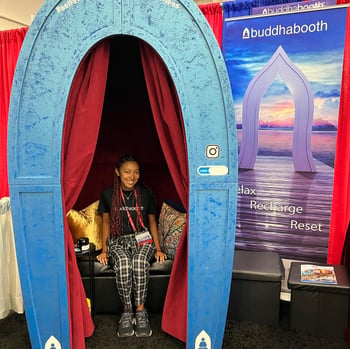 Previously, we wrote about how employers often get wellness programs wrong (it's not just yoga and a wellness room). In the 181,000 sq. ft. exhibit hall filled wall-to-wall with exhibitors from across the country, we met a few players moving the workplace, wellness, and employee experience in the right direction.
A few of these tech problem solvers include:
These companies are expanding what is possible in employee experience and making workplaces work better for people in the process.
Related: Employee wellness (and why most employers have the wrong approach)
5. Skills Gaps and the Future
Another critical element in our conversations with HR professionals was identifying skills gaps to create employee development opportunities and knowing how each person works best.
Suppose an organization can identify employees' talents and how they work best. From there, leaders can create a plan and community that supports those talents of the individual. And, for employees, when a company invests in them, it ties them to the organization's future.
"Employee development is more important than ever because it allows companies to engage with one another and build skills and knowledge to do their job better."

- Ralph GaillardCEO and Chief Learning Architect,
Adele Learning Lab.
Related:
---
Flexibility with Community Connection
It all comes full circle. In our conversations, we learned that employees want flexibility across the board, but employers are worried about how to scale and maintain it.
The reality is that flexibility can also lead to chaos.
You have the individual, but you also have the team and the organization. And, if everyone is doing their thing, it's hard to build a cohesive organization. But then, if you don't have something that manages a level of complexity in flexibility, you can become trapped by your flexibility patterns. We should be addressing the friction between individuals' flexibility to perform at their best while connecting employees to the larger organization community to deliver great value and results.
So, it isn't about flexibility in a vacuum. It's about flexibility with community connection to add value and growth.
At inspace, we're working to create a central point for accessing your digital workplace. We're on a mission to support organizations trying to attain the balance between flexibility and community (i.e., workplace freedom).