MORE FLEXIBLE WORK

The non-territorial character of Activity Based Working ensures more flexibility and facilitates collaboration with colleagues. For example, the members of a project team can choose their workstations based on their proximity to colleagues with whom they would like to work, so that direct collaboration is possible in real time.



BETTER COMMUNICATION

Proximity improves communication. The more directly information and ideas are exchanged, the better the quality of work and its outcome. The provision of areas for communication, such as group spaces or lounges, means that smart working fosters collaboration and contributes to the direct exchange of information between people. And where employees feel comfortable, they are more productive.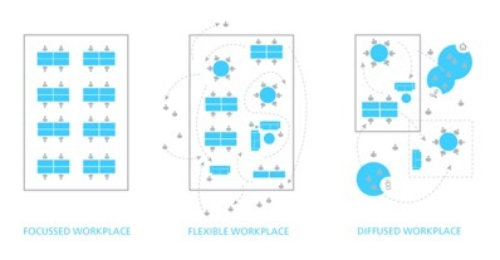 MORE PRODUCTIVE WORK

Greater proximity and the direct exchange of ideas with colleagues have a positive effect on productivity. Working alongside colleagues reduces the need for formal meetings. Projects can be accelerated, decisions made more quickly. Results are achieved in a shorter time and are generally better.



MORE EFFICIENT SPACE

Smart working not only offers benefits for employees. The concept is also valuable for firms. Smart surfaces, such as inspace, allow space to be used more efficiently. Facility managers can immediately identify and respond to low-traffic areas of the office, either by reassigning it or reducing it to save property costs.